Experienced San Marcos Garbage Disposal Repair Professionals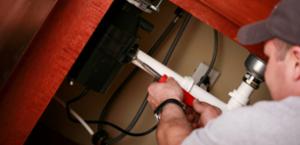 Has your garbage disposal stopped working? Don't worry, we've got plenty of experience repairing damaged garbage disposals and installing new ones.
For jammed garbage disposal repair in San Marcos, call 760-670-3860.

Things You Can Do If You Have A Jammed Garbage Disposal
Our team has years of experience fixing and replacing jammed garbage disposals in San Marcos, and we are here to help you with your disposal.
If your disposal has stopped working, there are a few common reasons. The biggest reason is that something has clogged the unit. Sometimes, this is due to items falling inside the unit that shouldn't. Other times, people keep putting food down the unit that they shouldn't, such as bones, grease, oil, and so on.
You can try fixing your own unit with a tool or see if hot vinegar will clear buildup. If you try fixing the unit yourself, be very careful. Always disconnect the power and never put your hand inside the unit. However, if the unit still doesn't work, call 760-670-3860 and we will send someone to examine the problem.