Professional Maintenance Check & Water Heater Repair in San Marcos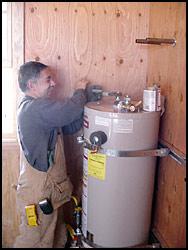 Many common issues involving water heaters can be prevented through regular maintenance. Ongoing inspections and tune-ups to your unit can prevent costly repairs and prolong the life of your water heater.
With our plumbers on your team, you can be sure your unit will be kept in the best possible shape for as long as possible.
Call 760-670-3860 to ask about our maintenance plans.
We Work With All Major Water Heater Brands

Whether you have an old conventional water heater with a large tank or whether you have a small point-of-use unit under your bathroom sink, we've seen it before. Our team has worked with every major brand of water heater, from Rheem to G.E. to Rinnai.
We know how to repair and install tankless water heaters, solar water heaters, gas water heaters, electric water heaters, and more. Call 760-670-3860 to schedule an appointment with a local water heater specialist today.